LIAN LI GALAHAD 240 AiO Silver RGB Water Cooling
LIAN LI GALAHAD 240 Water Cooling
GALAHAD 240 REFROIDISSEUR DE CPU AIO LIQUIDE SOLUTION DE REFROIDISSEMENT FT. MATu00c9RIAUX PREMIUM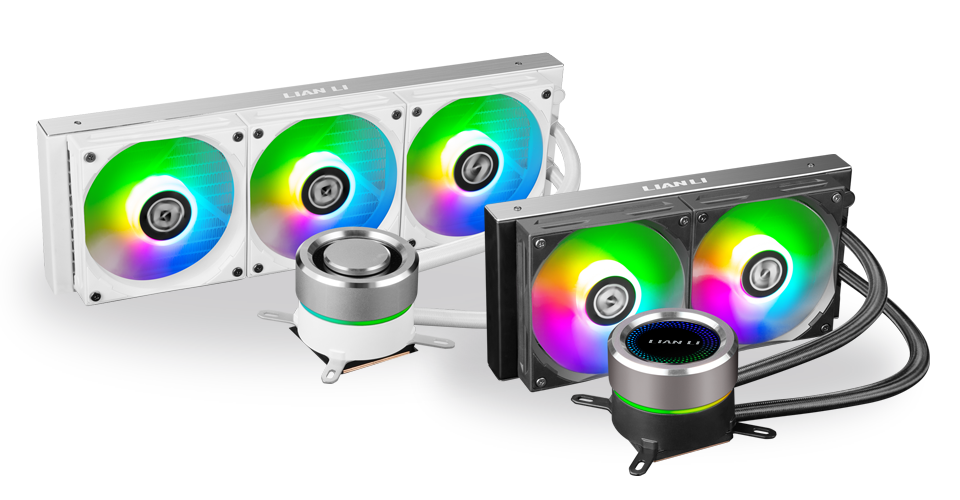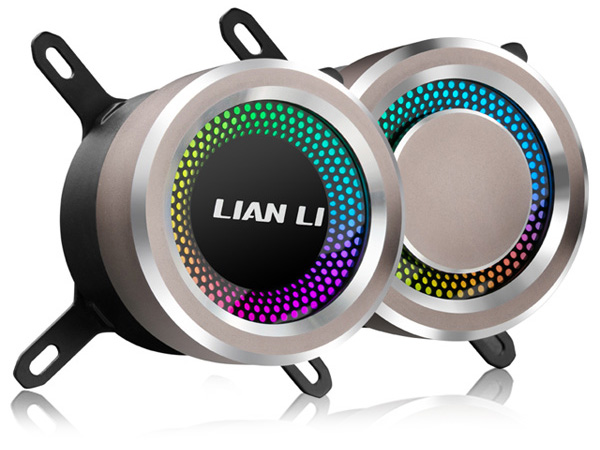 ALUMINIUM SHIELDS ON BOTH SIDES
Both sides of the radiator feature an exquisite brushed aluminium shield, which not only serve as protection for the radiator, ensuring a higher level of durability, but also add an understated metal elegance to your builds.
TRIPLE-CHAMBER STRUCTURE
The all-new GALAHAD series features a state-of-the-art triple-chamber pump design which combines the pump chamber, the connecting chamber, and the cold plate chamber into one unit to significantly reduce the friction produced by the coolantu2019s rapid flow. This design also serves as a protection mechaism to prevent your system from leaks should the CPU block pump be damaged.
u00a0
MULTI-CHAMBER TECHNOLOGY (M.C.T)
The M.C.T. design separates the hot and cool liquid flow by conveying them into different, sealed water passages, significantly enhancing the heat exchange efficiency and extending the lifespan of the CPU block pump by preventing the hot liquid from flowing back.
HIGH-DENSITY ALUMINIUM RADIATOR
The radiator encompasses 12 rows of aluminium tubes, allowing a maximum amount of liquid to pass through and transfer the heat out of the system efficiently. And thanks to the high-density fin folds between the aluminium tubes, the surface area providing heat dissipation is significantly increased.
SPECIFICATIONS
RADIATOR MATERIALS
Aluminum and plastic
RADIATOR DIMENSIONS
360mm: (L) 397.5 x 123.5 (H) x 27mm
240mm: (L) 273 x 123.5 (H) x 27mm
PUMP
height 61.8mm
diameter 74mm
FAN DIMENSIONS
(L) 120 X (W) 120 X (H) 25 mm
FAN SPEED
800u00b1200(30%DUTY) ~ 1900 RPMu00b110%
FAN AIRFLOW
69.17 CFM
FAN AIR PRESSURE
2.6 mmH2O
FAN MTTF
40,000 Hours
NOISE
32.dB
FAN POWER CONNECTOR
4-PIN
FAN RATED VOLTAGE
12V DC
PUMP DIMENSIONS
(L) 87.1 X (W) 74 X (H) 62
PUMP MTTF
70,000 Hours
PUMP NOISE LEVEL
< 20 dBA
PUMP RATED VOLTAGE
12V DC
COMPATIBLE CPU SOCKETS
Intel: LGA 115X, LGA 1366, LGA 775,
LGA 1200, LGA 2011, LGA 2066
AMD: AM4
WARRANTY
5 years
(fans and LEDs limited to 2 years)